Thoughtfully designed modern jewelry and home décor, handmade ethically by Maasai women in Tanzania. 
ORIGINS COLLECTION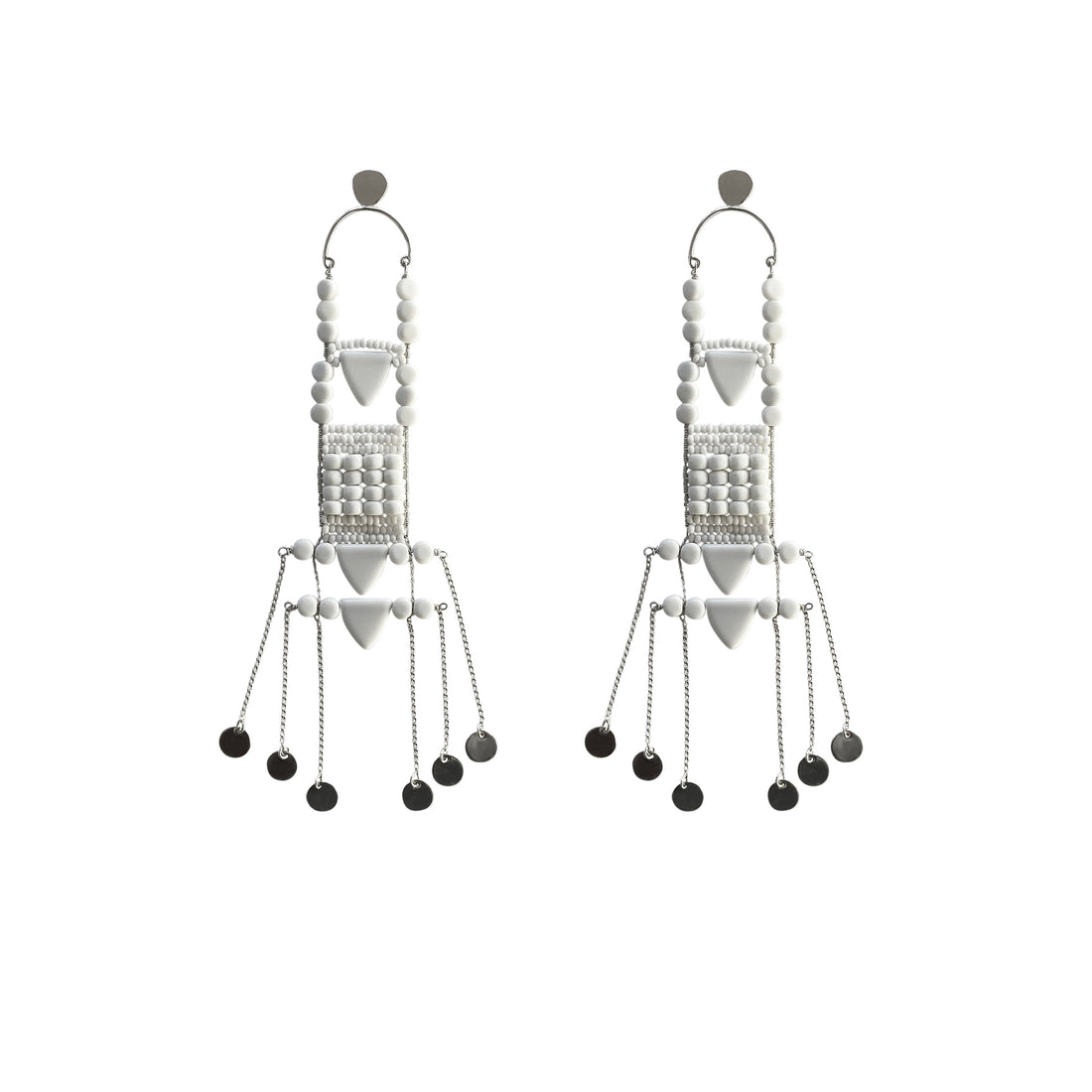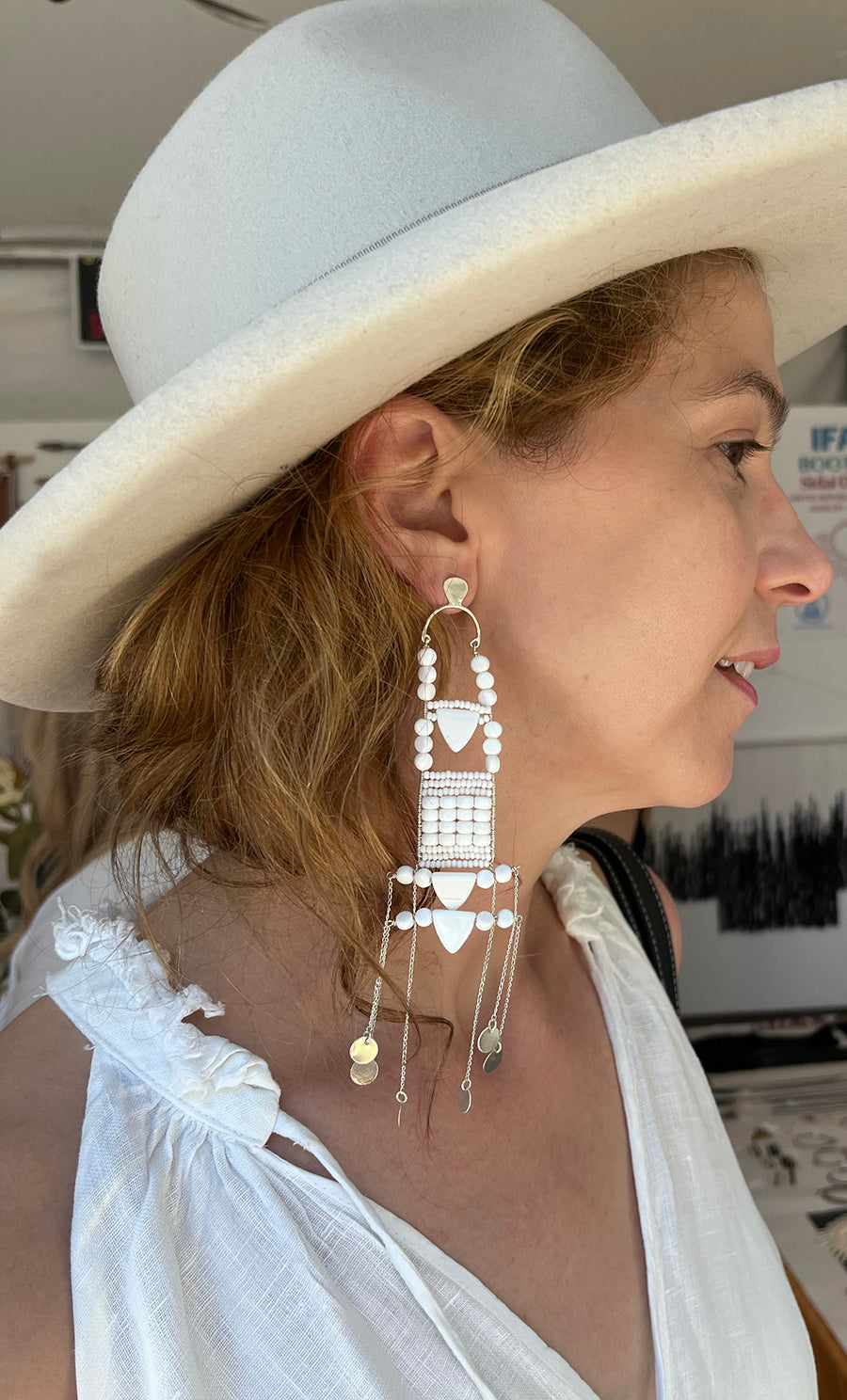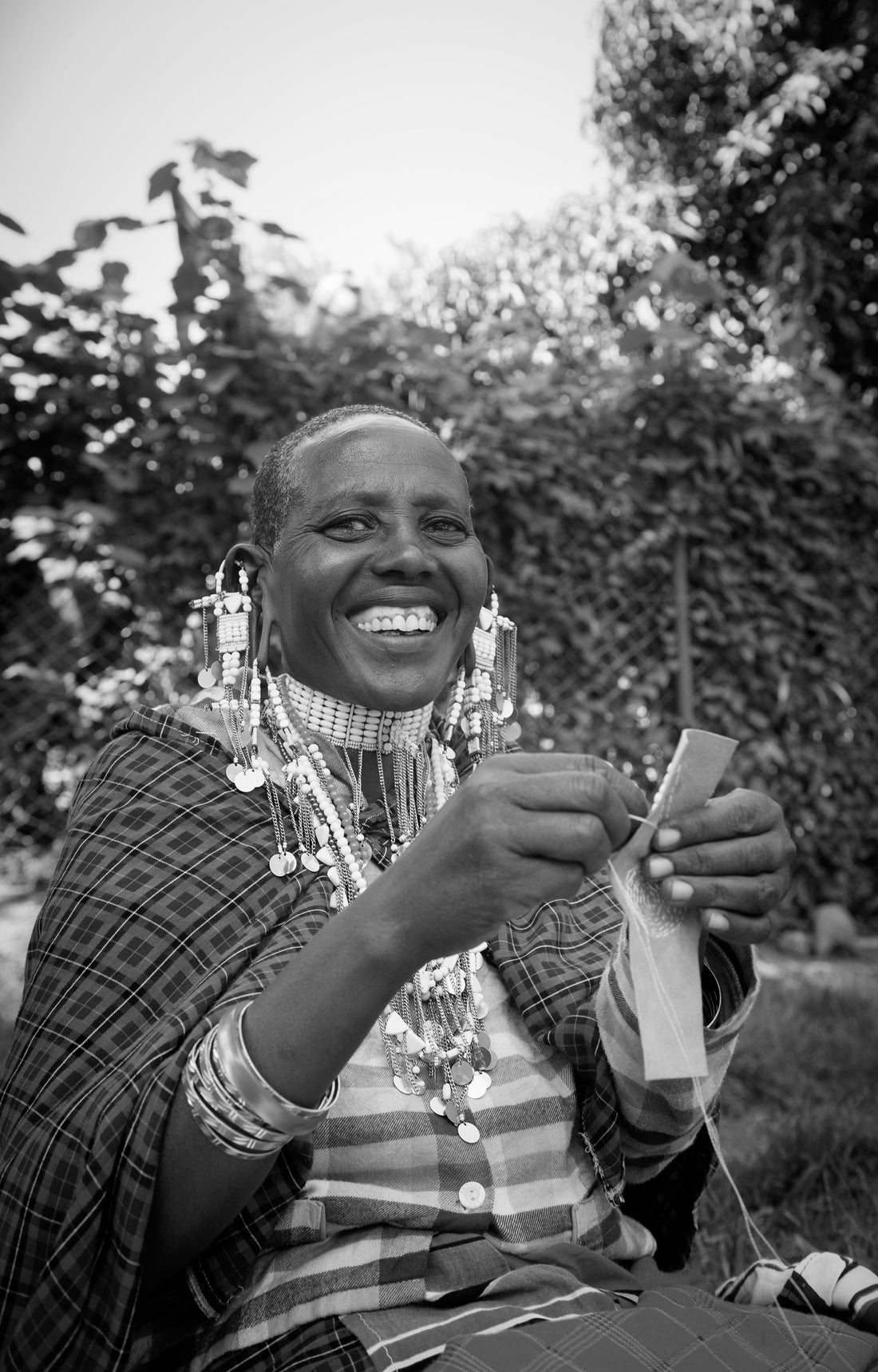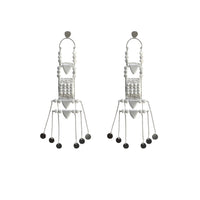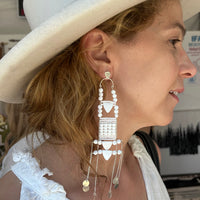 Long Traditional Maasai Earrings - WHITE
Description
ONE OF A KIND
Impact
These exquisite, statement-making beaded earrings with traditional shillingini style disks are artfully designed to bring power to your look. This refined and modern sterling silver version of Maasai traditional earrings, worn in shimmering layers by women throughout Northern Tanzania, captures the essence of Sidai Designs.
Handmade sterling silver frames, wrapped with sterling silver wire strung with high-quality locally sourced glass beads, decorated with hand-cut sterling silver disks attached to sterling silver chain.

Sterling silver stud closure.

Length: 5.90" Width: 1.35"

Handmade by Maasai women in Arusha, Tanzania.
This piece is handmade by one of our 120 Maasai beaders in Tanzania. With different hands crafting each piece, no two pieces will ever be exactly the same. We celebrate the uniqueness and differences between them, making them truly one of a kind, just like our customers.
By making your purchase, you have helped to provide our workers with a living wage. You have helped to provide regular social programs for our team. You have helped enable women and girls to go on to help their community.
From all of us at Sidai, ashe naleng – a big 'thank you' for your contribution. Together we are building a brighter future for our team and their community.
double your impact
shop good
Locally sourced leather from a women-run Maasai tannery, embroidered by Maasai women
shop ngozi
SHOP by style
Wall Hangings

Earrings

Bracelets

Necklaces

Rings
Sidai (pronounced SEE-DEYE) means beautiful in Maa, the language of the Maasai tribe. Collaborating on beautiful, timeless design that preserves the traditional, time-honored beading techniques of the Maasai tribe is at the heart of what we do.
 
By making the best of Maasai craftsmanship available to you, we can contribute to building a brighter future for Maasai women and their communities.

With love,

Becky & Eszter

x
OUR STORY
HANDMADE & ETHICALLY SOURCED
We collaborate with Maasai women to create design-led beaded accessories using high quality materials that bring a touch of modernity to Maasai craftsmanship.
learn more
Make an impact
With your purchase, you are contributing to the preservation of Maasai beadwork and creating economic opportunities that positively impact the women and their communities.


learn more
OUR VALUES
SUSTAINABLE EMPLOYMENT FOR MAASAI WOMEN
Women who have access to fair and sustainable employment are a positive force for change.
IMPACFTUL DESIGN
Design should be more than just beautiful, it should also make an impact.
POWER OF CREATIVITY
Creative expression can increase self-esteem and build social capital.

PRESERVING TRADITIONS
By elevating traditional designs for the global market we hope to inspire the next generation of beaders & preserve Maasai craftsmanship.
AS SEEN IN
SIDAI CENTRE
15 Kanisa Road (opposite Pepe Restaurant)
Arusha, Tanzania. 

Mon - Fri, 10am - 5pm
Sat, 10am - 4pm
+255.743.071.086 | sales@sidaidesigns.com
DIRECTIONS
HOUSE OF TREASURES
No. 70 Dagoretti Road (opposite The Hub)
Karen, Nairobi, Kenya.

Mon - Sun, 10am - 5pm
+255.743.071.086 | sales@sidaidesigns.com
DIRECTIONS